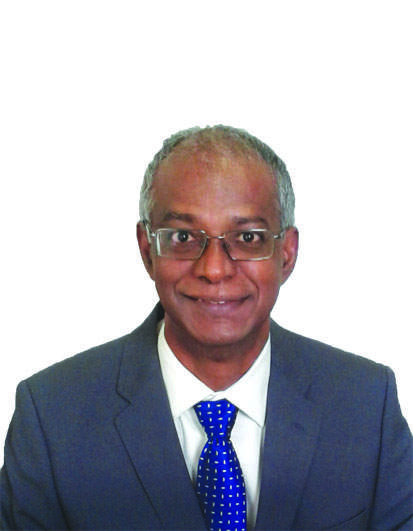 Chetty Ekambarum
Program Coordinator and Instructor
CHETTY Ekambarum Saminada is the owner and Managing Director of Life Continuity ltd. He is an approved BCI Certified Consultant and Trainer, PECB Certified Trainer for ISO Certification Training. He conducts training in Business Continuity Management for CBCI certification, Organisation Resilience, Crisis Management, Simulation Exercise and PECB ISO Certification Training for individuals, organisations and products.
email: info@lifecontinuityltd.com
CHETTY Ekambarum Saminada (B.E,MBA,MBCI,MCMI,MIEx(Grad), LI&LA 22301 is the founder and Managing Director of Life Continuity Ltd which is registered with Mauritius Qualification Authority. Life Continuity  is a Licensed Training Partner of Business Continuity Institute of UK .
The institution is also a training partner of Professional Evaluation Certification Board of Canada (PECB) for conducting professional ISO training, evaluation and certification of organisations, individuals and products in Mauritius. As PECB approved Trainer, he conducts ISO Certification training for ISO 22301 and other ISO Standards.
He has a Master of Business Administration (MBA) with the University of Surrey (UK) and is a Registered Professional Engineer of Mauritius (RPEM 854) in the field of Electronics and Communications. He is an approved consultant for the implementation of Eco Label MS 165 for Mauritius Tourism Authority.
As BCI approved instructor and consultant, he provides training for BCI Good Practice Guidelines (CBCI), the BCI Impact Analysis (BIA) course, the BCI Exercise Planning Course, the BCI Crisis and Incident Management Course, the BCI Supply Chain Continuity Management course, the BCI Writing Business Continuity Plans course and an Introduction to Business Continuity course. The institution also provides training in Business Management, ICT and Tourism Sustainable Management.
PROFESSIONAL MEMBERSHIP AND CERTIFICATIONS :
MBCI- Member of the Business Continuity Institute (MBCI)
Approved BCI instructor and Consultant in Business Continuity
BCI SADC–Director of BCI Africa SADC chapter
MCMI-Member of Chartered Management Institute -UK
MIEx(Grad)-Full Member of Institute of Import and Export of England
MMIM- Ex Board Member of the Mauritius Institute of Management MIM
Manager, and Programme Officer as registered with MQA
Eco label Consultant for implementation of MS 165 for Mauritius Tourism Authority
MQA Approved Trainer in Business Continuity Management
BS 25999- BSI-Lead Auditor Business Continuity Management Systems-
ISO 27001-STQC-CISP professional -Certified Information Security Management Systems Training
ISO-22301 Lead Implementer-Societal Security and Business Continuity Management Systems
ISO-22301 Lead Auditor-Societal Security and Business Continuity Management System
ISO-31000 PECB Certified ISO 31000-2018 Transition Risk Management
ISO 19600-PECB Certified ISO 19600 Foundation
ISO 45001- PECB Certified ISO 45001 Transition for Safety and Health
ISO 21000- Followed PECB Foundation Training for Educational Organisations
PECB Certified Trainer to conduct ISO Certification Training for PECB
<script type="text/javascript" src="https://platform.linkedin.com/badges/js/profile.js" async defer></script>